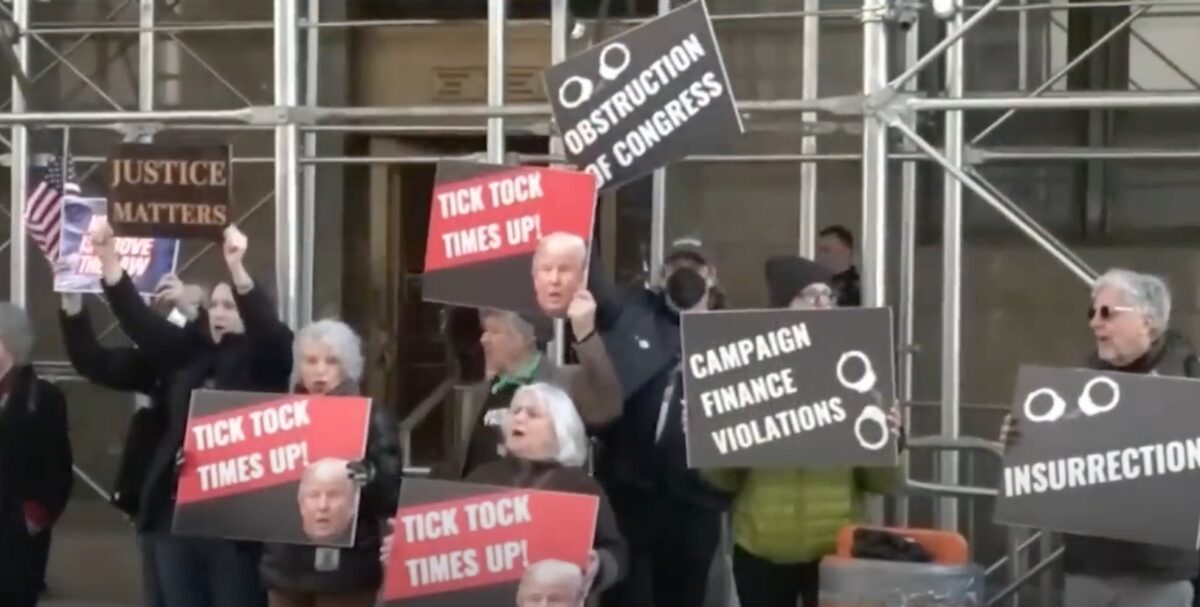 Former President Donald Trump spent days calling for people to "protest" his seemingly-imminent indictment over the Stormy Daniels hush money case, though the protest that showed up might not have been what he had in mind.
Fox News published a report on Wednesday, acknowledging Trump's supporters were "far outnumbered in New York City" when they turned up to protest outside of the Manhattan District Attorney's Office. This happened when the assembled Trump supporters were counter-protested by people who were there to cheer for Trump's indictment, plus the other legal troubles that continue to surround the former president.
The NYPD took steps to safeguard the area on Tuesday as news watchers have been concerned about the possibility of violence from Trump supporters gathering to rail against his potential arrest. So far, the Trump supporting crowd has been meager in size, and Fox News referred to a Politico report on Trump's supporters reacting to the small gathering
"We threw it together at the last minute, the last 24 hours," said Gavin Wax, president of the New York Young Republican Club. Wax insisted to Politico that the club wanted to keep their protest "low key," and that "we weren't sure we even wanted to come out because some people don't like us, but we are here to show that there is support for President Trump in the bluest area in the country, here in Manhattan."
Here's what Politico got after hearing from another Trump supporter:
Norman Ross, 59, a personal trainer, said that fellow Trump supporters were cautioning each other about coming out to protest, saying they could be arrested in traps orchestrated by Democrats in the largely liberal city. Ross said he believed there was a larger protest around the corner. But, other than a smattering of Trump supporters outside the former president's Fifth Avenue building, the courthouse protest was the biggest gathering Monday.

"A lot of the conservative groups are writing to each other right now to stay home. They are nervous that this would be a setup," he said, adding they feared "they would be arrested like January 6."
Ross told the outlet he would return if Trump gets indicted, and he acknowledged the possibility that further protests could devolve into chaos.
The post Even Fox News Covered the Tiny Crowd Supporting Trump Outside Manhattan Court Despite His Call for Protest first appeared on Mediaite.